The Past is Behind.
That is the title of this little drawing by L.A.-based artist
Mel Kadel
. I look at it carefuly. Something about it is quite disturbing. The past. The past is on the right side. You see, in Western culture we read time as we read text: from left to right. Our past is on the left, and our future - on the right. Well, here, the rules are different (as they should be on the
real

moon
). Either time moves the other way, or, maybe, the girl is jumping, setting off, being blown away, and the past is whatever she dares to look at in the right-most position. But then probably this
is
the moon, and she is landing her jump, and when she falls she looks down, at the ground, not behind her. In any case, the past is absent. Not even a shadow to count it. This abstract landing is, of course, a dance, full of grace and asbent-minded, as only a dance can be. Did I say there was no shadow? I was wrong. There is one poignant shadow: on the face of the girl, as she is flying highest. So the sun is on the right. Behind.
There are many other drawings by Mel Kadel I really like. Here are some examples:
girl with bicycle wheel shoes #2
summersaulting
The Park
Some of her drawings remind me of
Linda Zacks
, others, of the great Lithuanian-Polish artist
Stasys
I have to write about some time. The latter might have a different technique, but there is just something about the way of seeing the world, the birds...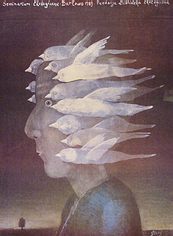 (Stasys)
(Mel Kadel)
...and horses...
(Stasys)
(MelKadel)
...that really makes me feel good.
Polish Easter

, Mel Kadel

(via)

Technorati: