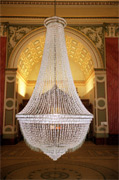 If you click on the image above, you will discover that this is not your average chandelier: it is made of tampons. Portuguese artist Joana Vasconcelos loves to play with the idea of femininity, of the "womanly knowledge", and to put it on its head.
As the French newspaper Libération put it,
she uses out-of-date archetypes, but ones which still impregnate the collective memory, to update "portugality".
Libération published
an article
about Vasconcelos, who has an
exhibition
in Paris, at the publicity agency
BETC Euro RSCG. The place might seem strategic, if you hear her say provocatively that she "criticizes the action of consuming, which they are trying to sell". But this is more than a rebellion - it's a provocative flirt, in which the
pieces turn discourses such as pop, or the aesthetic irony of kitsch, around and over themselves, adding a new ironic twist to the use of these languages and materials,

as the Elba Benitez Gallery's site describes.